Boiler and Central Heating Installations
Gas Services
We provide free surveys and quotations for central heating and boiler installations and replacements. We are not tied to any boiler manufacturers so we can offer impartial advice based purely on how best to meet your requirements.
Every home is different in both its construction and how it is used. For every installation, we carry out a full survey and talk to the occupier about how they use the property.
Then, taking into account any client preferences, and using our considerable experience, we find the best products, guarantee offers and value for money available. We then provide a fixed cost quotation and produce a detailed schedule of works to specify exactly what we intend to do.
Every installation is installed to comply with all current regulations and legislation, as well as with any particular manufacturer's instructions.
Enquire About Our Services
Building Regulations require energy efficient controls to be fitted to most heating installations. These include zoning of heating systems in larger houses, individual thermostatic control valves on radiators and a room thermostat. We will ensure all our installations meet Part L: Building Regulations.
We recommend that all new boiler and central heating installations include a magnetic filter. These filters help to keep the heating system clean and therefore reduce repair and maintenance costs and increase energy efficiency by up to 6%.
All new installations require that the system is chemically cleansed on completion and an inhibitor added. This process removes any debris from the inside of the boiler and pipework and helps prevents any build up of sludge from oxidisation. In addition if a boiler is being fitted to an old and dirty central heating system we may also recommend that the system is power flushed to ensure it is clean before upgrading.
All installations are completed with a minimum of disruption. We will dispose of all waste and all our engineers have vacuum cleaners!
Each stage of an installation will be carefully explained. When it is finished we will register your appliances for Buildings Regulations and with the boiler manufacturers to ensure your guarantee is registered on your behalf.
We will explain and demonstrate how to use the appliances installed and leave you with instruction manuals. We will complete all the manufacturers commissioning records and leave them with you too.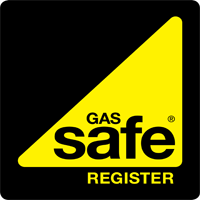 We use the same survey and quotation procedure for boiler replacements as we do for new installations. Boilers generally have a life of between about 10 and 20 years depending on the model and on how they have been used and maintained.
All our servicing is completed by properly trained and registered engineers for a fixed cost, and if we service your appliance we gurantee a rapid response to any breakdowns.
Gas safety checks are a very large part of our business and we carry out many hundreds of them every year. Completing them properly requires high levels of expertise, together with knowledge and experience of the huge range of gas appliances now available from hundreds of different manufacturers.
All our engineers are fully trained and experienced in fault finding on all makes of boilers, fires and other gas appliances including high efficiency condensing boilers.